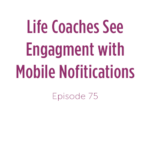 Life coaches are always looking for ways to be more engaged with their clients.
In the latest podcast episode, we are taking on the topic of getting more – and better – engagement with clients for life coaches.  It's a critical piece of the pie when it comes to being successful and garnering repeat clients, referrals, and the like.
[LISTEN: Online Coaching + Mobile Wallet + Maximum Engagement – PODCAST EPISODE]
Many of the life coaches that we work provide 'homework' or 'assignments' for their clients, in order to help determine what their baseline is, and to keep things moving along with masterminds or groups.  The more a coach can automate the process, the more successful he or she will be in getting a message across in a timely manner.
What really works when you're a life coach trying to keep your clients engaged in your program?
Some of our favorite life coaches have told us time and again that using mobile as a means to communicate and engage with clients (and prospective clients) is the most effective and most productive means they have when it comes to ROI.  After all, a coach working with a group or mastermind can only spend so much time on individuals and still make a profit.
Mobile is also incredibly effective when it comes to relationship building.  Often people do not want to have to make direct phone contact, video calls, or in person meetings; they feel for one reason or another that they do not have the time or they just plain don't want to deal with it face to face – apparently this is a primary reason why people decide to hire life coaches – that is, to help them get their lives back in order so that they can begin to effectively communicate one on one again.
We're also talking about to craft your message, what it takes to write engaging (and short) lock screen notifications, how to structure your program via mobile notifications to match your online or real life curriculum, and how to use stats to tailor your program to meet multiple group needs.
So life coaches –  grab your cuppa and your earphones and dive into this weeks podcast episode!