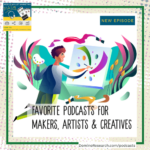 Makers, artists, creatives – this episode is designed for you!
We've combed through our subscriptions and playlists and pulled out a few podcasts that we really like – series and episodes that focus on makers, artists, and creatives.  You know, the kind of people who really love to make things – all kinds of things.  The sort of finished products that you find on Etsy, Artsy, and a ton of other e-commerce sites.
[LISTEN: 6 Strange Podcasts You Probably Haven't Heard of Yet – PODCAST EPISODE]
Whether you are an artist, a craftsperson, or a designer, if you are any of these things, then you are one of the makers in our book!  We have a great appreciation for those who can take ideas and turn them into concrete (or paint, or fiber, or metal, or cake…) pieces of work, and then have the cojones to put that work out for the entire world to see and judge.
What happens when art smashes headlong into tech?
The era of too much technology has created a very strange intersection of technology and old fashioned physical labor.  It's nearly impossible to sell your creations unless you use technology – in the form of social media, search engines, online e-commerce platforms, and so on – which means that makers are automatically going to have to be marketers; it's few and far between that have dedicated PR departments or gallery representatives when you look at the entire number of people who are out there creating things on a daily basis.
And there are so many style specific platforms out there now –
Digital Art & Design – Behance, Dribble, Artsy
e-Commerce for makers and recyclers – Etsy, eBay (still the king), 1st Dibs
e-Commerce for artists – Pixels, LevelPress
e-Commerce for designers – Society 6, PrintedMint
This is by NO means a complete list, it's just the tip of the iceberg.  We could seriously do an entire podcast episode about the rise of Depop (don't feel bad if you are over the age of 25 and don't know a thing about it yet) and how young people are becoming e-commerce entrepreneurs before they've graduated from high school.
Our list includes podcast series for makers that are focused on design – digital and physical, music, the recycle/upcycle movement (again, we'll tackle this Depop thing later in the year), and art, particularly the super hot illustration movement that's taking over the web right now.
Last but certainly not least
We will close out with some of our own thoughts about translating the creative energy and process that makers use to produce into marketing at a higher, more efficient level.  After all, if you spend all your time marketing, you don't have any time left over for making, and that would be a shame.  But art supplies and musical instruments aren't free – at least not the good ones, not that we've seen – so the bills have to get paid one way or another.
Grab your earbuds and take a load off with us while we talk about our favorite podcasts for makers, creatives, and artists!